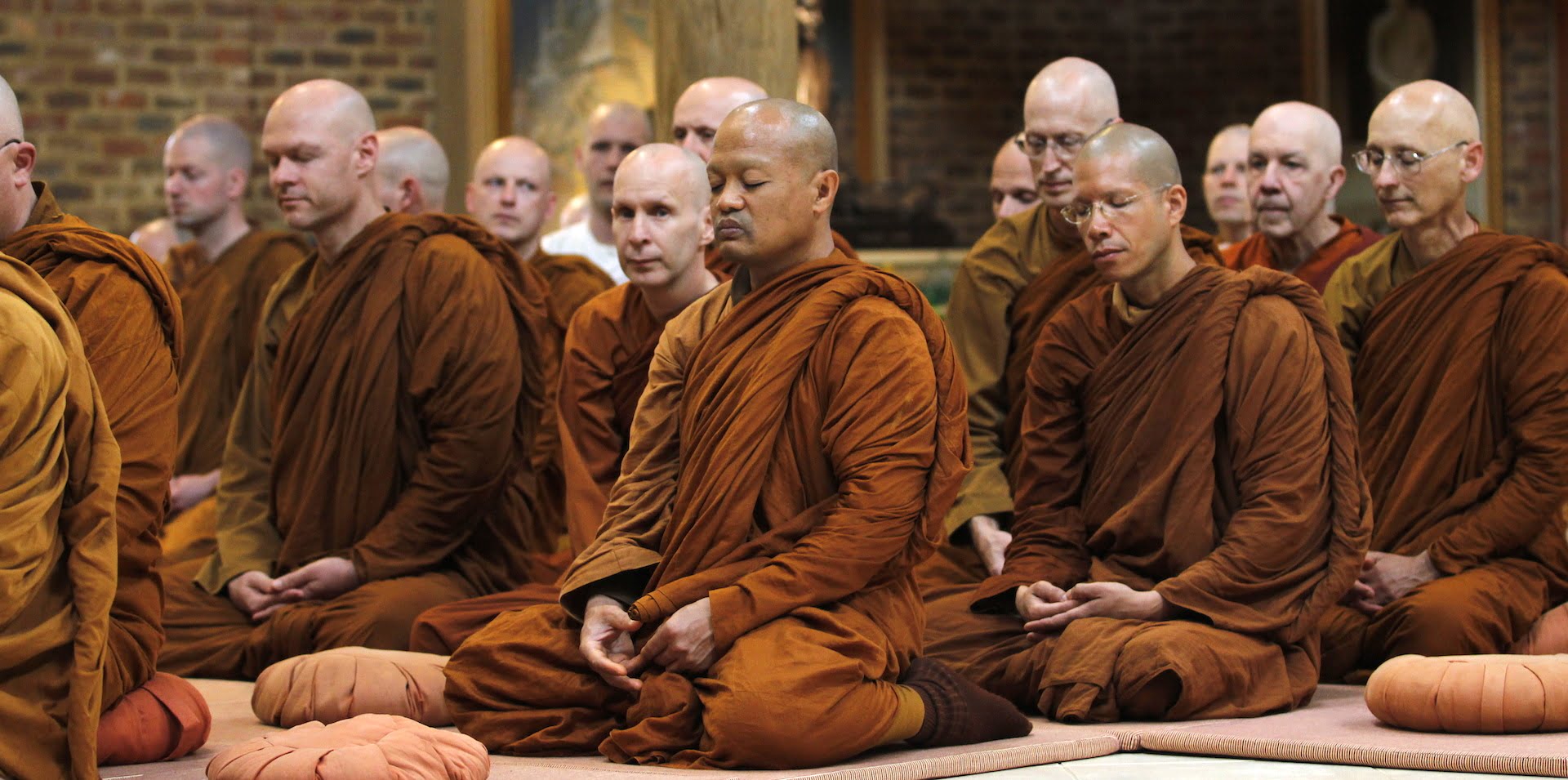 The bhikkhu community at Amaravati was founded by Luang Por Sumedho in 1984. Its first members came from Cittaviveka Monastery. Many had spent some time training in Thailand at Wat  Pah Pong.
There are usually between fifteen and twenty-five bhikkhus and sāmaneras in residence at Amaravati, living a contemplative, celibate, mendicant life according to the Vinaya and Dhamma. They provide a living link with the Order founded by the Buddha over two thousand years ago. The community also includes anagārikas, white-robed postulants observing the Eight Precepts, who after a year or two may be given sāmanera ordination.
The community is not static as there are close links with the other branch monasteries in England and abroad; bhikkhus and sāmaneras move between the monasteries.
In November 2010 Luang Por Sumedho handed over the duties of Abbot of Amaravati to Ajahn Amaro and is now based in Thailand, where his monastic life began in 1966.
Anagārika Jeroen
biography
hide biography
Anagārika Jeroen was born in the Netherlands in 1973. He studied Civil engineering and Technical business administration. After working for a few years in Civil engineering, he decided to switch to IT and worked as a System Administrator and Developer.
Seeing all the social and environmental problems in the world, he started to look for solutions. Through this search he began to see that the Western consumerist society he grew up in was contributing to these problems on a major scale. He saw that an ever growing economy was not the answer to the problems, but the cause. This made him realise that he wanted to get out of this rat race and find something that would give a real purpose to his life. He became interested in alternative ways of living, meditation and spirituality.
In 2013 he was very fortunate to join a ten-day S.N. Goenka vipassana course at Dhamma Pajjota in Belgium. He was amazed by the logical and profound teachings of the Buddha, and that this retreat was offered for free, made him feel very grateful. Wanting to learn more, he started to visit the meditation centre as often as possible, to meditate, to serve on retreats and to help out with maintenance. Being in line with his own values and ideas, he began to see that following this path was the best thing he could do with his life. But he realised it would be difficult to commit himself fully while still having a job.
After reading the book The Buddha and his Teachings by Ven. Narada, he seriously started thinking about entering monastic life. He discovered the Thai Forest Tradition and was drawn by Ajahn Chah's simple and direct teachings. Anagārika Jeroen started visiting the monasteries in England in 2015. His Anagārika Precept Ceremony was held on 8 October 2016.
Hide biography
Anagārika Jiri
biography
hide biography
Anagārika Jiri was born in the Czech Republic in 1985. In 2011 he discovered Buddhism and started to practise meditation. He formally requested to join the Amaravati community and undertake the anagārika training during a ceremony held on 3 May 2017.
Hide biography
Anagārika Dāvis
biography
hide biography
Anagārika Dāvis developed interest in Buddhism during his school years. At the age of 21, when going through a difficult time in his life, he came upon a transcript of a talk given by Ajahn Sumedho. It deeply resonated with Anagārika Dāvis, and for the first time he visited one of the monasteries established by Ajahn Sumedho. After years of trying to settle in the worldly life and working as an animator's assistant in a small animation studio, he returned to a monastery at the age of 28. Two years later he took on the training and white robes as an anagārika in a ceremony held at Amaravati in May 2017.
Hide biography