Coming on retreat
---
What to expect?
What to expect?
---
Noble silence
Our retreats are held in Noble Silence, which all retreatants are expected to observe. Noble silence gives us the opportunity to not engage in conversation with others unless absolutely necessary. This can be thought of as a gift that we have so rarely in today's society. Noble Silence helps to quieten the mind and allows us to have the space and time to reflect inwardly and observe our minds, thoughts and feelings.
While on retreat, retreatants are requested not to use mobile phones, laptops, iPads, iPods etc. at any time. If you feel you will be unable to meet this request, we suggest you should consider whether this is the right time for you to come on a silent meditation retreat.
However, if you think someone may need to contact you in an emergency whilst you are on retreat, please give them our contact details (provided in your Confirmation email). We can take a message and pass it on to you. We are happy to support you during your retreat in this way.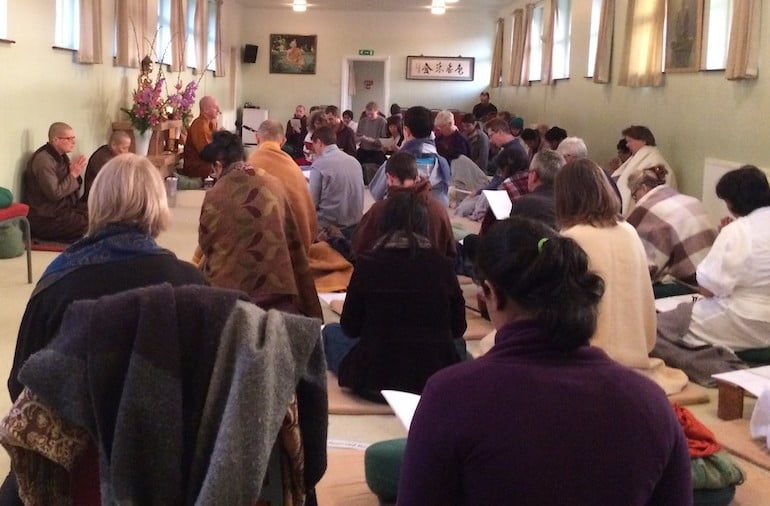 ---
"Let go of the past,
let go of the future,
and let go of the present,
Proceed to the opposite shore with the free mind,
leaving behind all suffering."

Dhammapada, verse 348
Asking the teacher questions
On most retreats there are opportunities to ask the teacher questions, either verbally or in writing.
During weekend and five-day retreats the teacher will give instruction in both sitting and walking meditation. There is also usually an opportunity to ask the teacher questions about Buddhist teachings and meditation practice.
On ten-day and thirteen-day retreats participants meet with the teacher in small groups for questions and answers. Longer retreats are for those who already have some experience of meditation, so basic instruction is not generally given, although often there are guided meditations.
---
Sitting and walking meditation
Both sitting and walking meditation sessions usually last for about 45 minutes. Although, on longer retreats the sessions may last up to one hour. There are opportunities to sit in meditation for longer during free periods, should you wish to do so.
For sitting meditation we provide cushions, kneeling stools or chairs. You are also welcome to bring your own cushion or kneeling stool.
---
Working meditation
Working meditation periods are an opportunity to practice mindfulness whilst doing a simple task in silence. The session lasts for approximately 45 minutes each day. Tasks include activities such as chopping vegetables, gardening, washing windows and cleaning. Instructions for each task are given at the beginning of the retreat. Working meditation also helps keep the Retreat Centre clean, tidy and running smoothly, for the benefit of all on the retreat.
---
"One who transforms old and heedless ways
into fresh and wholesome acts
brings light into the world
like the moon freed from clouds."

Dhammapada, verse 173
Eight Precepts
All participants are expected to keep the Eight Precepts whilst on retreat. They offer a way of living together morally, ethically and harmoniously, causing ourselves and each other as little suffering as possible.
Harmlessness: not intentionally taking the life of any living creature.
Trustworthiness: not taking anything that is not offered.
Celibacy: refraining from any sexual activity.
Right Speech: avoiding false, abusive or malicious speech and idle chatter. Whilst on retreat keeping Noble Silence.
Sobriety: not taking any intoxicating drinks or drugs that lead to carelessness.
Renunciation: not eating after midday.
Restraint: not wearing make-up, perfume, jewellery or immodest clothing; not texting, emailing, making telephone calls or using the internet; not playing or listening to music, or watching TV.
Alertness: refraining from overindulgence in sleep.
---
Chanting
In Thai Forest monasteries in the West, including Amaravati Retreat Centre, chanting during pujas is in Pāli* and/or English. Chanting books are provided, but joining in with the chanting is completely optional.
* Pāli is the language of the scriptures of Theravada Buddhism.
---
Arriving and departure
Arriving and departure
---
You are expected to take part in the whole of a retreat.
Registration takes place between 4.00pm and 6.30pm on the first day of the retreat. Although you cannot register before 4.00pm you are welcome to arrive earlier on that day and join in the main meal at the monastery (11.30am in the summer and 11.00am in the winter).
Weekend retreats end at 5.00pm on the last day of the retreat. All other retreats end at 1.00pm on the last day.
It is usually not possible to stay at the Retreat Centre except during a retreat. However, it is possible for a few retreatants to support us by arriving early to help set up the retreat, or staying on to clear up after the retreat is over. If you are interested in applying to do this, please contact the Retreat Centre. Please note that it is only possible to arrive early or stay on after a retreat has finished, if the Household & Maintenance manager has confirmed that your help is needed .
---
Daily Schedule
Daily Schedule
---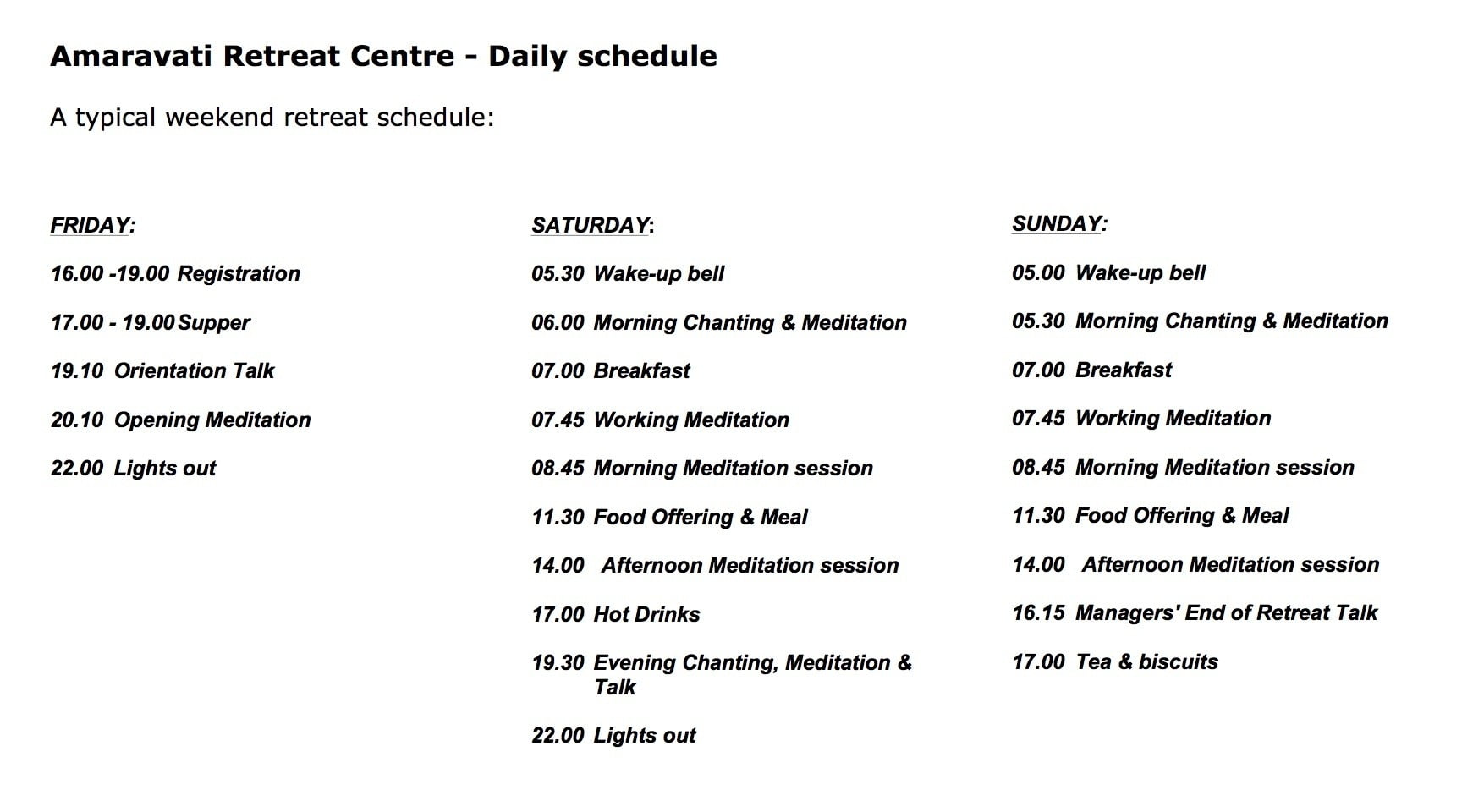 "We are our own protection;
we are indeed our own secure abiding;
how could it be otherwise?
So with due care we attend to ourselves."

Dhammapada, verse 380
Cost – Dāna
Cost of Retreats – Dāna (Generosity)
---
There is no charge for attending monastic-led retreats at Amaravati. The teachings are given freely, as are the accommodation, food, and all the other facilities available during your retreat. This is in keeping with the Thai Forest monastic tradition as practised here at Amaravati.
We are able to continue offering retreats due to the generosity of past retreatants, and all future retreats remain dependent on that generosity. At the end of each retreat there is the opportunity to offer dāna if you wish to do so. This may be financial, or take the form of volunteering your time or special skills, offering supplies, etc. Whatever you feel inspired to give is gratefully received.
To give you an appreciation of how much it costs overall to run the Retreat Centre: it is about £60 to support one person for a weekend retreat, £100 per person for a 5-day retreat, £200 per person for a 10-day retreat and £260 per person for a 13-day retreat.
Please do not feel under any pressure to give a donation which meets these costs. Conversely, if you are able to give more, this will help fund those who cannot afford to give so much. No one should feel unable to attend a retreat because they cannot afford to make a donation. Whatever you can offer is helpful and of value.
---
"Having performed a wholesome act
it is good to repeat it.
Enjoy the pleasure of its memory.
The fruit of goodness is contentment."


Dhammapada, verse 118
Accommodation
Accommodation
---
The Retreat Centre is not a purpose-built centre. It was originally built in 1939 as a residential school for evacuee children. It consists of a complex of single-storey buildings clad in Canadian pine. Over the years since it became a Retreat Centre it has been partially insulated, has had some double-glazed windows installed and meets current fire and health & safety regulations. However, it still offers fairly basic accommodation, mainly in single-sex dormitories, although we have a few single rooms for those with special needs.
---
Dormitories
We have two single-sex dormitories which sleep up to eighteen people. Each bed has its own small wardrobe and chest of drawer unit.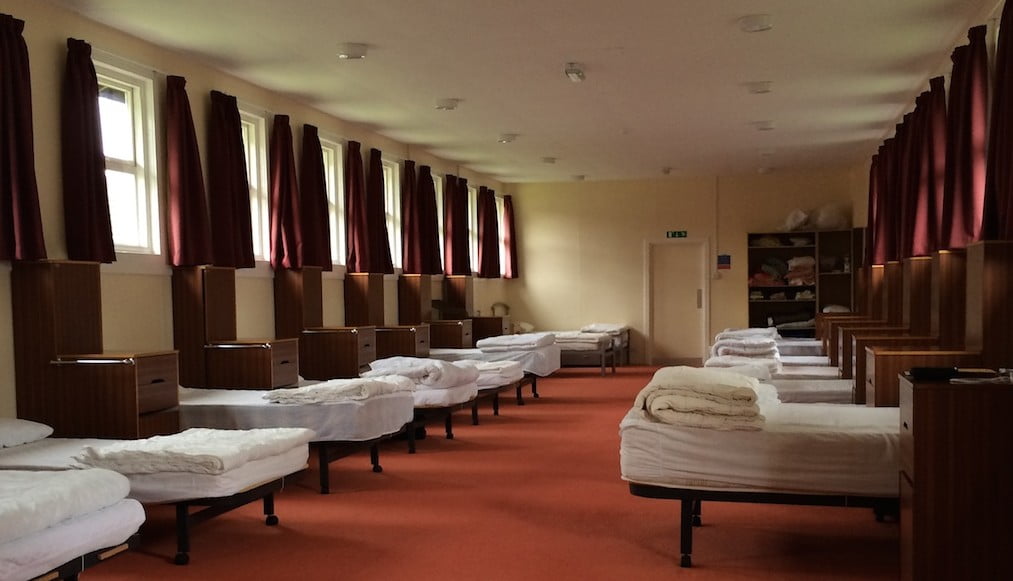 ---
Single rooms
We have a few single rooms available for those with medical needs or disabilities, or due to age (over 75 years old). If you request a single room, you will be asked when booking to give your reason(s) for this request. Your Confirmation email will be sent once you have completed your online booking form. However, your place cannot be guaranteed until your reason for requesting a single room has been considered. If you are on the waiting list for a place on a retreat and have selected a single room, you will only be contacted if a single room becomes available.
---
Special needs facilities
We have one room which has easy access for wheelchair users and a hospital bed suitable for those who are seriously or terminally ill and have need of this facility. This room is adjacent to a toilet and shower room which are equipped for special needs. If you require use of these facilities, please indicate this on your online booking form and if possible we will allocate this room to you.
---
Camping
It is NOT possible to camp at the Retreat Centre whilst on retreat.
---
What to bring?
What to bring?
---
Sheets, pillowcase and duvet cover or sleeping bag (pillow, duvet and blanket are provided)
Towels and toiletries
Waterproof outdoor clothing and footwear
Slip-on shoes or sandals
Thick socks or slippers (outdoor shoes are not worn in the Retreat Centre)
Warm clothes – several layers of clothing are recommended
Comfortable, loose-fitting clothing
Small torch, hot water bottle
Health and Safety – Electrical Appliances
Due to current Health & Safety regulations, all electrical appliances, i.e. anything which needs to be plugged into a wall socket in the Retreat Centre, must first be checked and approved by a qualified electrician. This means that visitors CANNOT plug in and use their own items such as mobile phones, laptops, iPads, hair-dryers, etc. whilst staying at the Retreat Centre.
---
Retreatants are asked not to use mobile devices and electronic equipment during retreats. If you believe you will be unable to meet this request, we would ask you to consider whether this is the right time for you to come on a silent meditation retreat.
We provide safe facilities where mobile phones and other valuables may be left for the duration of the retreat. If you think someone may need to contact you in an emergency whilst you are on retreat, please give them our contact details (provided in your confirmation email). We will take a message and pass it on to you. We are happy to support you during your retreat in this way.
---
"Transform anger with kindness
and evil with good,
meanness with generosity
and deceit with integrity."


Dhammapada, verse 223
What to wear?
What to wear?
---
Retreatants are asked to dress discreetly, out of respect to the monastics leading the retreat and to not distract other retreatants. This includes:
not wearing sleeveless tee-shirts, tops or dresses
not wearing short or tight-fitting clothing or leggings
not wearing low or plunging necklines or transparent clothing
not wearing shorts, skirts, or dresses which end above the knees
It is advisable to wear comfortable, loose-fitting clothing for sitting meditation, and suitable outdoor clothing for walking meditation, according to the time of year.
Washing machines are not available, but it is possible to hand-wash small items of clothing, and spin dryers and drying rooms are available for retreatants to use.
---
Meals and Food
Meals and Food
---
All food provided is vegetarian, and mostly vegan and gluten-free.
To respect the Eight Precepts, there is no evening meal. If you require an evening snack for medical reasons, please indicate this on your online booking form and a simple meal will be provided for you at 5.00pm during teatime. Medical food allergies and requirements can generally be catered for, but we cannot cater for personal food preferences. There is always a choice of food, including rice, salads and a dessert.
The practice of fasting is not permitted during retreats.
---